As the Palestinian economy falters, Israel recently asked the International Monetary Fund, the IMF, for a bridge loan of $100 million to help the Palestinian Authority (PA) pay June salaries. Since the PA is not a state, it cannot appeal directly to the IMF.

The idea was that Israel would borrow the money and the PA would repay Israel. Despite the move, the IMF turned down the request, saying that a state taking a loan on behalf of a non-state could set a dangerous precedent.

"Israel is interested in the economic development of the PA and was seeking to attain funds to help the PA over the current difficult period," a senior Israeli official told The Media Line.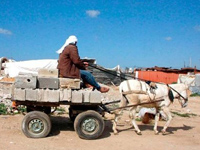 Udo Kock, the IMF Resident Representative for the West Bank, also indirectly confirmed the Israeli request.

"Palestinian Prime Minister Salam Fayyad, at the Ad Hoc Liaison Committee in Brussels last March, made a strong plea for additional resources from the donor community to address the severe government financing difficulties," Kock told The Media Line. "In this context, he asked IMF staff to consider ways for the Palestinian Authority to obtain Fund resources. IMF staff continues to explore ways in which the IMF can be of help to the PA at this stage."

June salaries for civil service workers such as policemen and teachers, a total of $235 million, which were due to be deposited yesterday, have still not been paid. Palestinian officials say that they expect that a portion of the salaries will be paid in the next few days. PA's budget pays the salaries for 150,000 state employees serving a population of about 3.8 million.

They put the blame on foreign donors which, facing fiscal crises of their own, have not fulfilled their pledges to the PA. A slowing Palestinian economy has reduced whatever taxes and fees the PA collects. To cover expenditure, the PA has borrowed $1.2 billion from local Palestinian banks at commercial interest rates.

"That is the ceiling of how much we can borrow," government minister Mohammed Shtayyeh, the President of the Palestinian Economic Council for Development and Reconstruction, told The Media Line. "It's a disastrous situation. The Palestinian economic crisis has been growing since 2002 but it is accumulative. The Palestinian economy is not really functioning."

Unemployment is also growing, he said, and has reached 38 percent in Gaza and 21 percent in the West Bank.

"The PA is heavily dependent on international aid," Shtayyeh added. "And that aid is shrinking because of the lack of progress in the peace process."

The PA currently has a budget deficit of $1.6 billion, of which $1.2 billion is budget support and $400 million is government aid.

It is not the first time that PA officials have said that the Palestinian economy could collapse.

"It's sort of like the rumors that the euro is about to collapse -- you get jaded," Dr. Mark Heller of the INSS think tank at Tel Aviv University told The Media Line. "But it is serious because the private sector in the PA is very underdeveloped and is dependent on foreign assistance. If the money doesn't come either because countries either won't commit or, in the case of the Arab states, commit themselves but don't deliver, it is a source of genuine concern."

If the Palestinian economy were to collapse, Israel would be responsible for all social services in the West Bank and Gaza, including garbage collection, education and law and order. Israel, like the US, does not recognize the Hamas government in Gaza as a legitimate government so it would be almost impossible to take responsibility in Gaza. The huge scope of the task makes it unlikely that it would succeed in the West Bank either.

There is also concern in Israel that a collapse of the PA's economy could spark a new round of violence.

"They have a lot of people on the payroll in security agencies," said Mark Heller. "The idea is that if they're paid to enforce peace and quiet, they won't be challenging that peace and quiet. But there is concern that if they can't be bribed to stay out of trouble, there will be trouble and it will be directed against Israel."

Written by Linda Gradstein via The Media Line