Israelis are known for their gregarious behavior and love nothing more than spending time with their group of close friends. It's a trait that is wreaking havoc among the quickly mushrooming singles population and threatens to have long-range anthropological effects on Israel's future society.

"The impact of the singles revolution, or better called 'the breaking-up revolution,' is far reaching and has been leaving its mark in recent years on housing, economy, education and even the level of personal happiness," writes Amit Zahavi-London in a new study on the singles scene in Israel.

Zahavi-London, who manages a dating service, maintains that modernization, pluralism and the rise in the standard of living can actually increase misery. "Perhaps it is temporary misery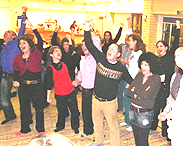 - a transition stage on the way to a society with new game rules."

According to the statistics, in 1971 the chance of a 35-year-old woman in Israel being unmarried was 1 in 40. Today, at least one in four women of that age is unattached. The situation is the same with men. Reflecting trends in the West, Israel is also witnessing a sharp rise in the divorce rate.

"A few years ago being divorced was a disgrace, shameful. People wouldn't even admit they were divorced. Now, in America, one out of every two couples is divorced. It's a very common phenomenon. In Israel, it's one out of three," Prof. Oz Almog, a sociologist from the Israel Studies Department at Haifa University, told The Media Line. "Having a lasting marriage is becoming abnormal, and that's no joke. We have to adapt."

Israelis use the Hebrew term Panu'i or "seeking" to describe that growing chunk of the population looking for a relationship around which an industry has been built. According to those in the business, Panu'i is anyone over the age of 24 who is officially either divorced, widowed or has never been married and is looking for a partner. It excludes all those fantasizing or miserable or even happy married folks who just want to hook up with someone new.

The latest figures from the Central Bureau of Statistics show that 35% of Israeli women between the ages of 35-49 are "seeking." For men, 42% between the ages of 35-39 are in this category. It drops to 35% between the ages of 40-44, and to 31% for the 45-49 age bracket.

As late as 1980, the Central Bureau of Statistics didn't even list "divorced" as a category for family status; offering only "single" or "not single." This drives home the fact that at that time, divorce was still on the margins.

"Dating sites have taken the place of the matchmaker with one exception," Zahavi-London tells The Media Line. "In the past it was uncomfortable to admit one needed the services of a matchmaker and it was usually done clandestinely. Today, belonging to a dating service is very legitimate."

Zahavi-London manages a dating site called "Shakuf B'Tzafon," in northern Israel. She maintains that the Internet significantly widens the number of potential partners over the traditional ways of hooking up. They usually offer everything from hikes, to dance parties, bus tours, communal singing, folk dancing and even bowling events.

But in reality, these events are very often attended by many more women than men; sometimes up to 80% are women.

"Women come to the parties in packs, not alone, whereas a man will come alone," she explains. "Men are less social and less engaged and are embarrassed to come alone. They are more functional minded. If they come to an event and don't find someone to go home with they won't come back. But girls have a good time. If they don't meet someone, then so what? They had fun and will come back hoping to meet someone the next time."

Eviatar Ronen, a divorced 49-year-old events organizer with boyish, charming looks, says he finds Internet dating the best way to meet women. However, while he says he has enjoyed it, he suggests that it risks creating a culture of "alienation" from the more challenging real world.

"Dating is easy these days. There are lots of choices and if you don't like it... click away and go to another group of choices," Ronen tells The Media Line. "Internet dating sites create an illusion of getting closer to people but really it creates alienation. You just head to J-Date and login and it creates a sense that if things don't work out, then you can just move on with the idea that you'll find another one with another click of a button."

Noga Martin, an editor in her 30s living in Tel Aviv, says she's practically given up on Internet dating sites.

"I've tried. I have stopped counting. When I used to keep a running tally I think I went out with well over 60 guys and the conclusion I've drawn about Internet dating is that it reflects exactly what you would find if you weren't using the Internet. People who are very sociable and outgoing find it very easy to meet people on the Internet and people who are more reserved or shy find it difficult," says Martin who has big brown eyes and enjoys long walks on the beach.

"If you are in a bar or any real analogue social situation and someone comes up and talks to you, you might not be that interested in talking to them at first but you know, someone can have another chance. Whereas, if someone passes over you on an Internet site, there is nothing you can do," she tells The Media Line.

Still, Zahavi-London argues that the Internet lets one cast a wider net.

"True, the alienation is easier, but why? It's because you can reach a wider group of people now. In the past, it was harder to break-up because often you and your spouse were in the same circle of friends, or at work or in the neighborhood. Now, if it doesn't work out, it is easier to cut-off because you don't have to see them," Zahavi-London says.

Ronen says that "seekers" who are put off by the blatant dating clubs and sites use other, more subtle activities to meet partners.

"Meditation classes, Yoga, Kabbalah studies, Tantra courses; it's a meat market," Ronen says. "Officially, it's not a dating site but nevertheless, practically speaking, it is a very popular pick-up place and ironically, that's because it doesn't have that stigma."

Ronen, who has lived abroad for extended periods, says he often finds Israeli single women very assertive.
"Israeli women can be very bold today and will come up to me and ask me for my business card and they ask me where I'm from and say 'You're so cute'," he says. "Many of these are women are freed-up from a miserable relationship. They are saying to themselves that they live only once and they don't give a damn and they deserve to enjoy life."

Zahavi-London says that people seeking a partner are not necessarily interested in getting remarried but are mainly looking for a partner to take them out of their loneliness.

The "seekers" population in Israel is growing and not just because more and more people are divorcing, but because, as Prof. Almog, believes, it's uniquely harder and harder to actually meet in Israel, regardless of the dating clubs.

"Specifically in Israel we have extra difficulties," Almog says. "One for them is our very inefficient public transportation network which makes it harder to meet up. Another thing is the lack of clubs and bars that cater for the middle aged, people above the age of 40 -- like me."

Almog says this was because Israeli society itself is in-flux and the industry of night life is relatively new.

"We used to meet in each other's apartment in our leisure time. And now, so many singles don't have the right place and they don't want to host someone in their apartment -- why should they? Now, for them it's difficult to adapt, and you know, there are so few bars that provide entertainment for mature people. It has to develop over the years. We have to think about people above forty."

Almog, who has written extensively on Israeli culture, believes that the number of single people will grow, especially women, who will be inclined to do away with having a relationship altogether. He even believes that in the future women will start to live in communal dwellings, a sort of Amazonian kibbutz.

"They will say, 'We don't need the male full time. Let him be my neighbor and come to some arrangement that will gradually replace him'," Almog quips. "Many people on Facebook do not accept term 'relationship'. It's not suitable for them. What we are going to have is a big large spectrum of relationships during a life course. It will be reflected in the different ways we are going to live. Many families will be temporary, they will change, and then we will live in a commune, then we will live alone, and then we will be together, with the kids, without the kids, kids coming back to our house, living with us, urban life, rural life, all sorts of things."

"We are living in a twilight zone, sociologically speaking," Almog says. "Researching the phenomenon of singles is actually researching the transformation of the human system."

Written by Arieh O'Sullivan via The Media Line