In 2002, when Joseph Gitler saw the growing poverty in Israel and its effect on the Israeli public, amidst the dark days of the Intifada, an idea was born. The new immigrant who had just moved to Israel with his family began thinking about ways to help the worsening situation. One phone call led to the beginning of Leket Israel - an organization that is now the largest food rescue project in the country and serves as Israel's National Food Bank.

Today - with the help of 40,000 volunteers, every year Leket Israel rescues over 700,000 meals and 21 million lbs of produce and perishable goods, and supplies over 1.25 million (7,500/school day) volunteer prepared sandwiches to underprivileged children. Food, that would have otherwise gone to waste, is redistributed to nearly 300 nonprofit partners caring for the needy.

VirtualJerusalem sat down with Joseph Gitler, the Chairman and Founder of Leket to hear more about their initiatives in helping the needy, their work within the Arab Israeli community and with African refugees, and to get the full story on how millions of people benefited from one man's idea.

Virtual Jerusalem: When did you realize how big of a problem hunger was in Israel?

Joseph Gitler: Between 2002-2003, when Leket Israel started, the second Intifada had started which took tourism and investment in Israel down. September 11th had happened which damaged Israel's hi-tech economy, the stock market, and venture capital investment. All of these things came together to a head in late 2002 and at beginning of 2003 with mass terror attacks, and continued stories and statistics in the press highlighting the growing poverty issue.

Coupling that together with what we all know in our guts - that there is just tremendous wasted food in all Western societies... it didn't jive well with me. And that's when I got started on thinking about what I could possibly do to help the situation.

VJ: Who are the people that Leket is helping?

JG: We think it's very important that we work across all Israeli society and there is no group we do not work with. We work with Israeli Jews, both secular and religious. Modern Orthodox and Ultra Orthodox. Israeli Arabs, Christians, Muslims, Bedouins, Druze, and we do a fair amount of work also with African refugees.

VJ: When you decided that you had to do something, what was the first thing you did to get the ball rolling?

JG: The first thing I really did was call charities, and ask if I can come visit and get a sense of if there was anything missing from their midst. In other words, what were they struggling with? And of course they all struggle with money and volunteerism, but what stuck with me is that they said, "We're struggling getting donations of food."

Israel is a western country with tremendous food resources. In fact, it's really important to highlight that there is actually no issue of food in any western country. All Western countries have more than enough food to cover all those in need. The issue is one of economics, logistics, and other social issues that people are going through that keep them from providing themselves or their loved ones proper sustenance. There is no food shortage in the world.

The UN estimates that 33% of all food produced in the world goes to waste. So literally that is in the tens of billions of tons a year. Sure, there are issues in India of refrigeration and in other countries of piracy, in other places of corruption, in other places of drugs and we could go on and on. These issues of course take place in Israel as well, but the primary issue was a harsh business climate during the Intifada coupled together at the same time with successful capitalism and increasing prices which makes it hard for people on lower salaries to live.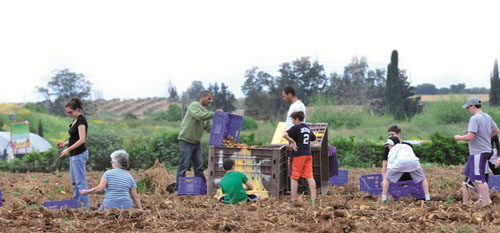 Project Leket (gleaning) volunteers picking in the fields.

VJ: What is your opinion on the recent controversies surrounding the African refugees in Israel? Has it impacted your work within that community at all?


As a Humanitarian organization, whatever the government's policy is, "Let them in," "Don't Let them in," "Take them out," "Let them stay in" - when we see people who need help, our obligation is to help them. We've certainly done our best. And we're among many groups trying to do our part, and we're doing our specific part by bringing fruits, vegetables, and rescued cooked food to specific organizations who have the bureaucratic backing that we need.

VJ: Tell us a little bit about the Friday afternoon meal you serve to the African refugee community and others in South Tel Aviv every week.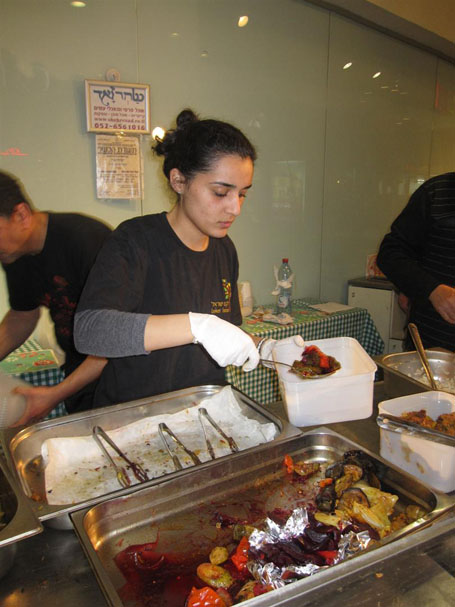 Meal Rescue in Dizengoff Center

JG: It's one of the projects that we are certainly most proud of. First of all, just the amounts of food! There is difficulty in getting the food immediately because it is often at the doorstep of Shabbat, and it's not so easy to find volunteers who can take it to organizations who will accept it so close to Shabbat. We do this in partnership with a church in South Tel Aviv which caters primarily to refugees. It's actually beautiful. It is in Park Levinsky on Friday afternoons and we're talking about many, many meals provided from Dizengoff center, [there are] about 400-500 meals are provided at this one site. It's shocking.

VJ: Tell us about the Israeli-Arab involvement in Leket.

JG: We have some Israeli Arab volunteers, though we could probably do better in that respect. We have some Israeli Arab food donors, though we could probably do better than that as well. What we are proud of is our employment in the Israeli Arab community, mostly in our gleaning initiative, where we currently have 22 Israeli Arab women primarily in their 30s and 40s who are working for us full-time as paid pickers with full benefits, no different than any other Leket employee. They work hard, they're paid reasonably, they're motivated and succeeding in their jobs.

Most of these women don't have other opportunities, they're not going to be computer programmers, they won't be trained to do other things - and they're absolutely thrilled they have solid jobs to provide for their family and we're proud of them also, they do really hard work in tough conditions. There's something very special about the fact that they are working and feeding the needy, and also taking care of their families at the same time.

VJ: Do you ever have struggles concerning the Kashrut of the food distributed considering that you work with both Jews and non-Jews?

JG: Yes.

It's not just the Kashrut, it's that we also have a special logistics program dealing with picking up non- kosher food, that is entirely separate, and in single serving containers, and the reason [we do that] is that it's food. We are a food bank in the state of Israel and that includes kosher and non-kosher food. We have to be extremely careful since we do not want non-kosher food ending up where people wouldn't want it.

While we're not a religious organization, there's a general discomfort that we have, that our board has, even those who are completely secular - in giving non-kosher food to Jews. And in fact- interestingly, most Israeli organizations that are Jewish, even if they are secular, will not take non-kosher food for fear that they might have clients who want kosher food.

VJ: Over the years, you must have encountered some incredible people in your work. Is there a person who stands out in your mind?

JG: One person is a woman who lived in my community and who has been both a recipient and a volunteer for Leket. To have someone who initially was a recipient, and [knowing] the food that she got allowed her to have a little bit more financial breathing room... This woman eventually turned her life around and was able to go back to her work place and eventually became a volunteer. She now goes out once a week at night and picks up food from a shopping mall and delivers it in the same way people used to deliver food to her. To me that's sort of a dream situation to come into. When you hear about someone who was a recipient... and today has become a volunteer, to me there is no bigger feeling than that.

VJ: How can people help you? What does Leket need now?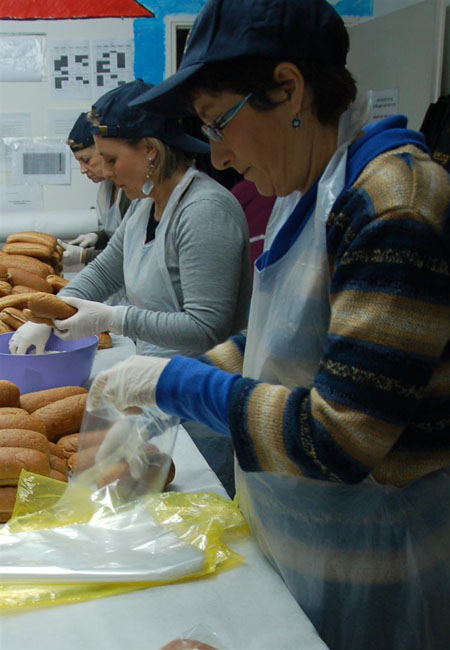 Sandwich for Kids Project


JG: I'd say, what Leket needs is for people to help us sustain our growth. We've become an organization that gives out literally tens of millions of pounds of food a year - I'm not exaggerating. For many Jews in the Diaspora or lovers of Israel, we represent the poor to them. When I speak about growing Leket, or speak about the volunteer help we need, or the financial help we need, I'm really talking about helping the 60,000 Israelis that every day are impacted by Leket in Israel.

VJ: How does it feel looking back at what an idea you had has turned into?

JG: It's pretty shocking. It's well beyond what I expected.